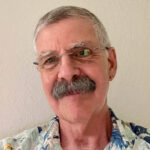 Thom Bettinger, End of Life Doula
A special Saturday edition of the Roundtable 
On Saturday, July 23, the LKAPS Roundtable welcomed Thom Bettinger, an end-of-life doula and longtime hospice volunteer. Thom explained what we need to do to ensure that our end-of-life wishes are understood and followed by friends, family, and healthcare professionals. Some of the issues covered were advanced healthcare directives, palliative care and hospice services, medical aid in dying (MAID) under the CA End of Life Option Act, and voluntarily stopping eating and drinking (VSED). 
Thom left us with a wealth of resources that we're happy to share with everyone.
A list of the advance planning documents in CA with links to necessary forms can be found here.
Resources for considerations at end of life:
For Medical Aid in Dying:
• From Compassion & Choices California
• From End of Life Choices California
• American Clinicians Academy on Medical Aid in Dying's Patient to Doctor Referral System
For Voluntarily Stopping Eating and Drinking:
• Phyllis Shacter, The VSED Choice
• From End of Life Choices California
• From Compassion & Choices California
Dementia Advance Directives
• From Compassion and Choices
• Alzheimers Association
End-of-Life Doulas
• National End-Of-Life-Doula Association (NEDA) 
• International End of Life Doula Association