---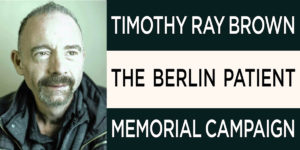 To memorialize Timothy's life and advocacy, a consortium of nonprofit community partners is launching the Timothy Ray Brown "The Berlin Patient" Memorial Online Fundraising Campaign for a boulder in the AIDS Memorial Grove National Memorial  in San Francisco, CA, and a bench & plaque at  Wellness Park in Palm Springs, CA. The goal is to raise $15,000 to fund the memorials. The consortium consists of the National AIDS Memorial, Lets Kick ASS-Palm Springs Chapter, amfAR The Foundation for AIDS Research, Desert Healthcare District & Foundation, HIV & AIDS Research Project-Palm Springs (www.harp-ps.org), and  Until There's A Cure Foundation. The National AIDS Memorial is serving as fiscal sponsor for the Campaign.  For the first 100 people who donate $100 or more, Until There's A Cure Foundation will send a special thank you bracelet in appreciation for your generosity. Additionally, artist Alexander Hernandez (www.hernalex.com) is donating a one-of-a-kind Art Piece made just for this cause, with each person who makes a donation being eligible to win as part of a special raffle at the end of the campaign.
---
People feel better when engaged in social activity. LKA Palm Springs helps long-term survivors overcome isolation by creating social opportunity. From our popular monthly potlucks, thrice-monthly coffee socials, and our movie nights, to now establishing annual events such as our June 5, Long-term Survivors Day reception and our Thanksgiving Day feast, LKAPS benefits its members through engagement.
Your Donations help us achieve our vision.
Let's Kick ASS Palm Springs has been recognized as a public charity by the IRS under code 501(c)(3). Donors can deduct contributions made to us, and we are "qualifed to receive tax deductible bequests, devises, transfers or gifts."
Did you know that you, your family, friends and co-workers can support LKAPS each time you shop on AMAZON? Simply follow the instructions embedded in this post to designate "Let's Kick Ass Palm Springs (AIDS Survivor Syndrome)" as your charity of choice for AmazonSmile and AmazonSmile will make a contribution of 1/2% of your purchase to LKAPS. It doesn't seem like much but when enough people are shopping it adds up quickly! You can click this link or the Amazonsmile logo above.  So Happy Shopping and Thank you!
IMPORTANT NOTE: If you normally shop using the Amazon app for iOS or Android you can continue to shop BUT, for the purchase to benefit LKAPS, you MUST login to https://smile.amazon.com from a web browser on your phone, tablet, PC or Laptop to add items to your cart and complete your purchase. 
Signup for Monthly Newsletter