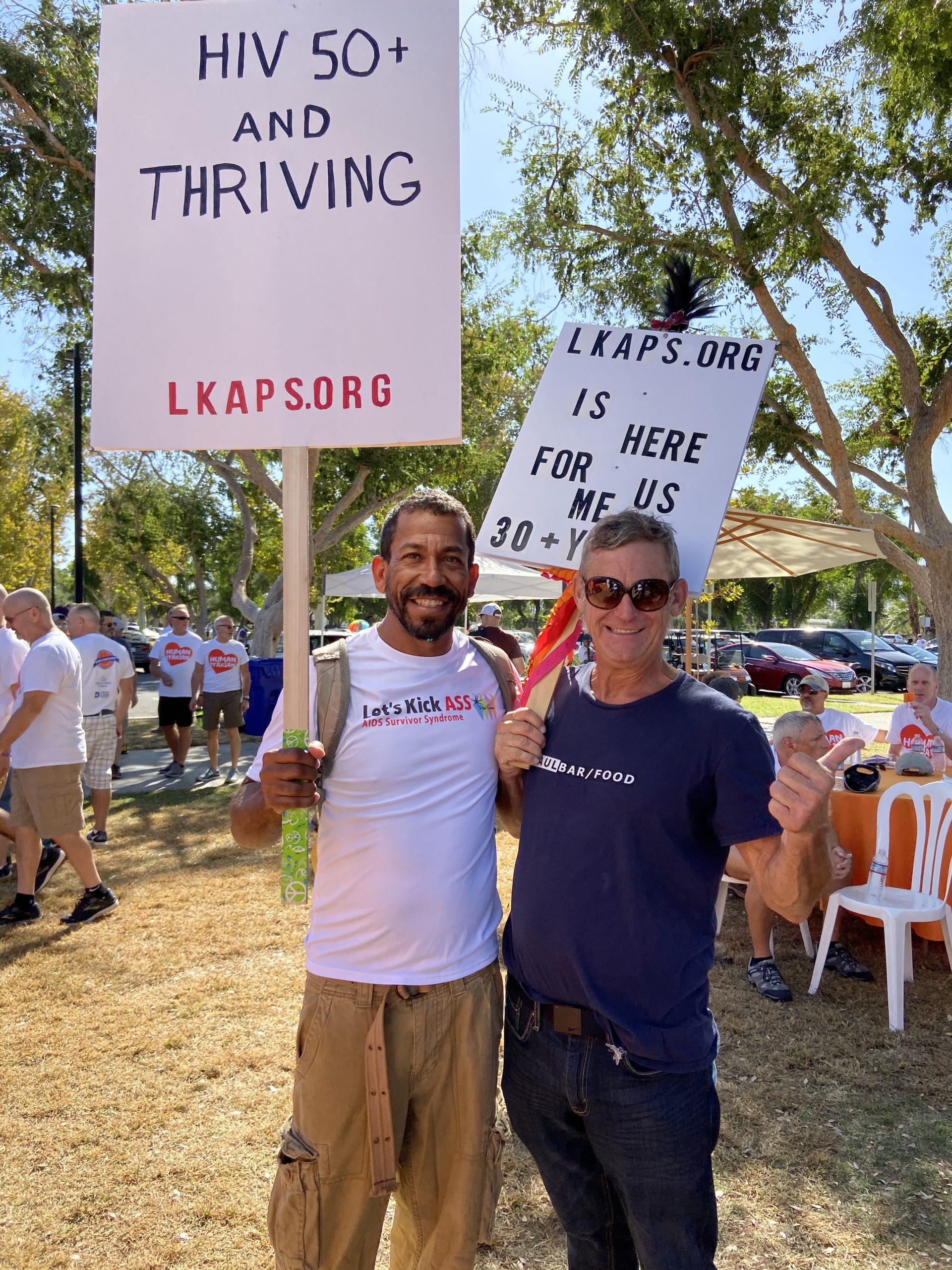 EDUCATION + ADVOCACY
LKAPS believes that providing education and advocating for people living with HIV/AIDS and AIDS SURVIVORS SYNDROME are at the core of our mission.
LKAPS regularly attends and promotes conferences, seminars, educational presentations and government meetings of interest to our members, gathers information and educational materials of interest, and represents and advocates for issues and policies that affect LKAPS members.
Recent highlights include:
Jax Kelly, president of Let's Kick ASS Palm Springs (LKAPS.org) attended the Memory Lives On: Documenting the HIV/AIDS Epidemic October 4 – 5, 2019 at UCSF Mission Bay Campus. Read Jax's notes.
Jax Kelly, president of Let's Kick ASS Palm Springs (LKAPS.org) attended the 2019 U.S. Conference on AIDS (USCA 2019) as a HIV 50+ Strong and Healthy Scholar at the Marriott Marquis, Washington, DC, September 5-8, 2019.  Read Jax's notes.
LKAPS at 2018 Aging Positively Conference –  LKAPS members attended and co-hosted the 3rd annual Aging Positively Conference in Palm Desert California. 
LKAPS at 2018 International Conference on AIDS – LKAPS attended the 22nd International Conference on AIDS in Amsterdam . Three of our members – Jax, Chris, and Eric – were there to ensure that long-term survivor concerns are heard.
LKAPS and National Long-Term Survivors Day – One of our LKAPS members participated in a news story marking the Day that HIV was discovered.  The news story was on the KMIR NEWS website. Click HERE to watch the story.
The POZ Life Weekend Seminar – This event, presented by Life Group LA, is held in the spring. Several LKAPS members attended.