LKAPS 2019 YEAR-IN-REVIEW
WELCOME TO THE LKAPS 2019 YEAR-IN-REVIEW
Thank you for your support of LKAPS and our efforts to help people reduce the isolation and stress of living with AIDS Survivors Syndrome. Your leadership, volunteerism and contributions are what enable LKAPS to continue to provide essential opportunities for social connection, education and advocacy to long-term survivors living with HIV/AIDS.
LKAPS accomplishes its mission by providing opportunities for social connection to foster friendships and a sense of community and by providing HIV & Aging education and advocacy.
LKAPS now has 422 contacts and 277 members who subscribe to our newsletter and who participate in social events, volunteer, and engage in LKAPS education and advocacy initiatives.
LKAPS welcomes anyone affected by the HIV epidemic regardless of HIV status, race, gender, age or sexuality, believing that the individual is the best judge of the impact of HIV on their life.
2019 LKAPS HIGHLIGHTS
Participated in Palm Springs Pride Parade and AIDS Walk Palm Springs
Raised operating funds to support LKAPS initiatives, including $1,400 from Facebook donations and over $600 from individuals at potlucks.
Held a Board Retreat to create a vision of the future for LKAPS resulting in a new LKAPS Vision Statement
Formalized an LKAPS Annual Operating Budget
Held over two dozen social events, including potlucks, movie nights, ice cream socials and pizza parties
Published numerous articles, flyers, links, and resources on LKAPS Facebook and Twitter pages: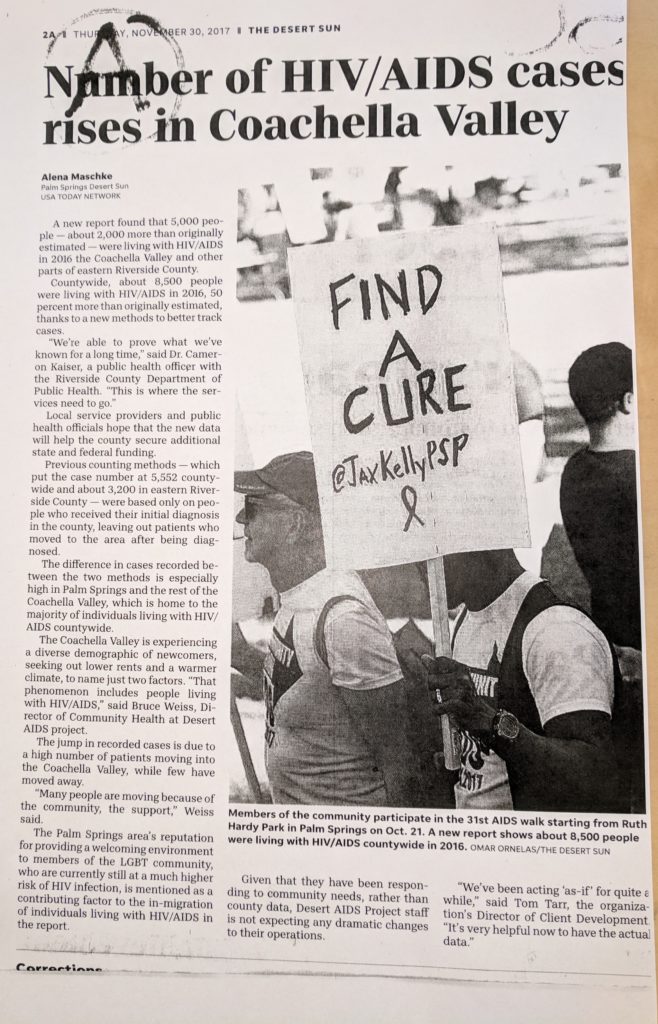 Two years ago at Desert AIDS Walk I carried a sign saying "Find a Cure." This year LKAPS will be carrying signs highlighting issues important to long-term survivors and HIV+ folks over 50. We are meeting at the LGBT Center (1301 N. PALM CYN DR, 92262) in room 4 on the SECOND FLOOR from 1-4pm this Saturday, October 12. Poster materials and pizza will be provided. Please join us and bring your slogan/message ideas. ​
​A big Thank You to all our community partners who helped make the 4th Annual Aging Positively Conference on National HIV and Aging Awareness Day (Sept. 18) such a big success! Congratulations to our own Richard Bass for his well-received presentation! To see the KESQ News Channel 3 report and other pictures from the event, go to our Facebook page https://www.facebook.com/LKAinPalmSprings/​
The annual Desert AIDS Walk will be held Saturday, October 19. Many of us have registered to support the financial goals of Desert AIDS Project. This year, LKAPS will be engage in advocacy. Why? Because we need to give voice to our unique issues: isolation, need for services geared toward aging with HIV, and affordable housing because housing is healthcare. We need to let people know that Senators Diane Feinstein and Kamala Harris are not on the Congressional HIV/AIDS Caucus (https://hivaidscaucus-lee.house.gov/membership, Dr. Raul Ruiz is a member). We will meet in Ruth Hardy Park before the walk and display signs/posters/t-shirts that show LKAPS wants action on these issues and more. Watch your email, our Facebook page and our website, LKAPS.org. for more information.
UPCOMING INITIATIVES AND EVENTS
LKAPS plans the following activities and initiatives for 2020 and beyond: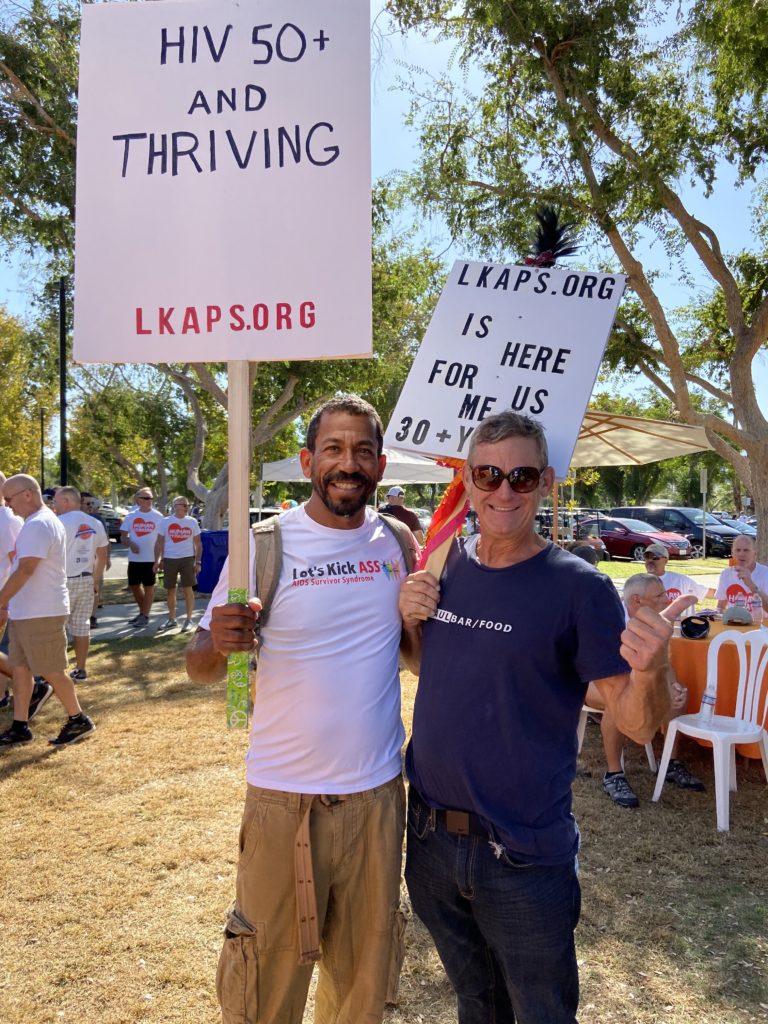 Produce Striving to Thrive Town Hall on March 21, 2020 at the Warsaw Ballroom, Temple Isaiah, Palm Springs. Funded by a grant from NMAC's HIV 50+ Strong and Healthy program and aimed at getting community input for a Standards of Care for people aging with HIV
File articles of Incorporation for Let's Kick ASS Palm Springs and expand the LKAPS Board of Directors
Launch the LKAPS Community Advisory Board to formalize community partner relationships and expand our reach
Develop an LKAPS Fundraising Plan to help secure funding for LKAPS programs, events and initiatives
Creating new social opportunities such as Discussion Groups; Day Trips to Joshua Tree, Idyllwild, Big Bear Lake, Temecula Wine Region, LA Museum, San Diego Zoo; adding lunch opportunities before movie nights
Expand educational programs by increasing the availability of articles, resources, magazine subscriptions (POZ, Positive +), links, conference reports and other materials; and by providing opportunities to participate in educational and training seminars, conferences, speakers' bureaus, and fairs
Increase LKAPS-coordinated educational opportunities through collaborations with related community partners, such as Desert AIDS Project, LGBT Community Center of the Desert, Palm Springs LGBT Community Leadership Council, HARP, PALSL, and other community organizations
Increase LKAPS advocacy for HIV & Aging issues and for treatment and support needs where possible, such as housing/co-housing, mental health, access to healthcare and medications, financial planning, emergency support, and medical research.
LKAPS & YOU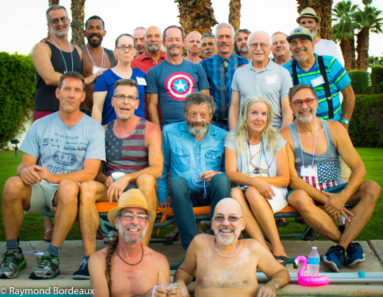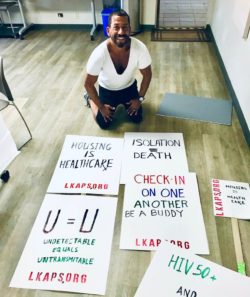 There's so much to do! And we need all the help we can get… can we count on you?
First, we're grateful for all the support we received in 2019. Your volunteer time and donations made last year a big success. And yet the work continues.
We are always in need of ideas to draw ourselves away from isolation. Do you have a talent for art, cooking, or decorating that you can share? Would you like to start a book club or a bridge group? Do you have items of special significance we can auction or show in a gallery setting? Would you consider leaving a gift to LKAPS in your will? Volunteer at our events and serve on our board or committees.
Help us to grow our membership. Invite your friends and family to our events. Share your LKAPS experiences with people who may benefit from them.
I look forward to seeing you in 2020 at our events. Let me know how we can be of service to you.
Hugs,
Jax
Jax Kelly, President, Let's Kick ASS (AIDS Survivor Syndrome) Palm Springs